The Avaya B149 Conference Phone ( Analog, Small Conference Rooms )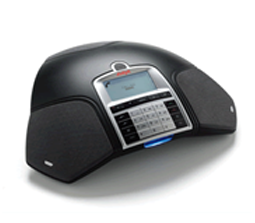 Best suited for small to midsize conference rooms with up to 10 people the B149 Conference Phone helps improve employee productivity and collaboration between customers, partners and suppliers. With the addition of optional expansion microphones, the Avaya B149 is ideal for use in large settings.
SPECIFICATIONS:
AUDIO FEATURES
OmniSound®.
Microphone: Omni-directional, 360˚.
Pickup range: up to 30 m2
(320 sq ft), > 10 people.
Volume: 90 db SPL 0.5 m (RMS).
Frequency response: 200-3400 Hz.
Equalizer: soft, neutral and bright.
CONNECTIVITY
Analog phone connection: modular
6/6 RJ11 to an analog PBX
Power supply: AC adapter 100-240
V AC/14 V DC, 6 m.
Expansion microphones: modular 4/4.
DIRECTORY
Phone book: 50 contacts.
Call groups: 20 groups.
RECORDING
Supports SD memory cards up to 2 GB
DIMENSIONS
Size: Diameter 240 mm, height 77 mm
Weight: 1 kg
COLOR
DISPLAY AND KEYPAD
Display: Illuminated graphics LCD, 128x64.
Keypad: Alphanumeric 0-9, *, #, off/F, on, mute, hold, volume up, volume down, 5 buttons for menu navigation, phone book, conference guide.
PLATFORM SUPPORT
Avaya IP Office Rls 7.0+
Avaya Communication Manager Rls 5.0+
Avaya Communication Server 1000 Rls 6.0+
Avaya Aura Rls 6.0+
OPTIONAL ACCESSORIES
Expansion microphones extend the voice pickup range from 320 to up to 750 sq ft (30-70 m2).
Power extension cable
Security lock and cable
Wall mounting bracket
LANGUAGE VERSIONS
User Interface: Danish, English, Finnish, French, Italian, Dutch, Norwegian, Polish, Spanish, Swedish, Turkish, German, Russian.
CONTENTS
B149, AC adapter, dual analog line and power cable