MRD-308 Series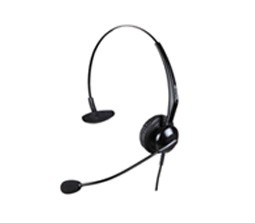 Noise cancellation microphone protects callers from surrounding distraction
Single earpiece offers superb clarity of sound
International standard hearing protection to your ears
Description:
Gooseneck Mic boom offers multiple adjustment and accurate position
Click-stop headband for superior fit and comfort
Leatherette ear cushion for all-day comfort
Accessories Options:
Foam ear cushion is optional
Multiple Intercom connecter options: RJ9 plug, 2.5mm ,3.5mm stereo plug or USB2.0 plug.
M-Volume Controller (with Mic Mute) is optional.
QD (Quick Disconnect) function is optional
Two Standard QD plugs can be chose
Structure Features:
Comfortable ear cushions , lightweight headband and flexible cord design, as well as adjustable microphone boom ,work to enhance every-talks good audio quality and all-days wearing comfort
330°rotatable MIC pole .
60mm adjustable T-Pad headband 180° rotatable joint of speaker and headband
CE, FCC certificated.
2-Year Warranty